Unveiling the Latest Shirt Trends and Styling Tips
In the fast-paced world of fashion, staying on top of the latest trends is a must. Your wardrobe deserves a fresh update, and shirts are the versatile pieces that can effortlessly elevate your style game. Whether you're a fashion enthusiast or someone looking to revamp their closet, we've got you covered with the hottest shirt styles, patterns, and cuts that are currently stealing the limelight.
At StyleClothe.com, we're committed to keeping you ahead of the fashion curve. Let's dive into the dynamic world of shirts and explore how to pair these trends with various outfits for that ultimate chic look.
1: Classic White Button-Downs Reimagined
When it comes to timeless elegance, the classic white button-down shirt stands unrivaled. However, the latest trends are all about adding a twist to this wardrobe staple. With oversized silhouettes, asymmetrical cuts, and dramatic sleeves taking center stage, you can effortlessly merge traditional charm with contemporary allure. The key lies in pairing these unconventional styles with tailored pants or pencil skirts, striking the perfect balance between sophistication and modern flair.
2: Making a Statement with Bold Prints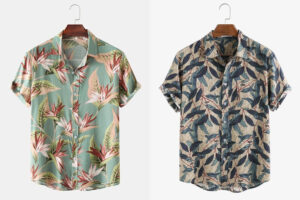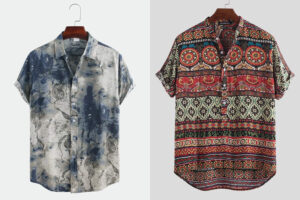 For those who prefer to make a bold statement, eye-catching prints are the go-to choice. Whether it's animal patterns, florals, or geometric designs, these prints exude confidence and individuality. When styling printed shirts, the trick is to pair them with solid-colored bottoms. This allows the shirt to take the spotlight while maintaining a harmonious overall look. At StyleClothe.com, you'll find an array of printed shirts that effortlessly place you at the heart of attention.
3: The Revival of Relaxed Camp Shirts
A blast from the past, the relaxed camp shirt is back in vogue. Crafted from lightweight fabrics and boasting a loose-fitting design, these shirts are tailor-made for casual outings. Achieving a laid-back yet stylish appearance is a breeze with these shirts. To complete the look, consider teaming them with high-waisted shorts or classic denim jeans. At StyleClothe.com, you'll find a selection of camp shirts that encapsulate the essence of carefree fashion.
4: Monochrome Mastery: An Ode to Timelessness
In the realm of fashion, monochrome shirts remain a timeless choice. Whether it's classic black, pristine white, or neutral shades, these shirts are a canvas waiting for your creative touch. The versatility of monochrome shirts shines through when you explore different styling possibilities. Dress them up with matching trousers for a sleek and polished ensemble, or down with a pair of well-fitted jeans for a casual, chic appearance.
5: Cinched Waist Wonders
Creating a defined waistline has never been easier, thanks to cinched waist shirts. These shirts come in a variety of styles, from wrap-around designs to those adorned with belts. The result is a flattering silhouette that complements your body's natural contours. Embrace this trend by pairing cinched waist shirts with wide-leg pants for an effortlessly put-together look, or opt for a midi skirt to accentuate your femininity.
6: Denim: The Evergreen Choice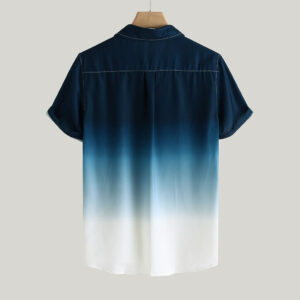 Denim shirts hold a special place in the hearts of fashion enthusiasts for their unparalleled versatility. Whether you're aiming for a casual daytime look or a more edgy and urban vibe, denim shirts have you covered. Light-wash denim shirts effortlessly pair with white jeans for a fresh summer appearance, while darker shades lend themselves well to black leggings for an undeniably chic edge.
Conclusion:
In the world of fashion, shirts have transcended their traditional role to become powerful fashion statements. Explore StyleClothe.com's extensive collection to embrace these trends and curate stunning outfits that capture attention effortlessly. Your wardrobe is a canvas awaiting your unique style, and with the latest shirt trends, you can redefine your fashion narrative.
Visit StyleClothe.com today to discover a world of shirt styles that push boundaries and enhance your personal style journey. Begin your transformation into a more confident and stylish version of yourself today!
Liked Reading our Blog: Share on Facebook